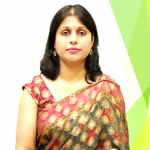 Teaching Interest: Financial Markets and Institutions, Mutual Funds, Financial Services, Indian Economy, Banking sector
Research Interest: Index Funds and Exchange Traded Funds, Mutual funds, Primary Market Secondary Market
 Impact of COVID-19 on Indian Stock Markets: A Descriptive Study. IRJMSH Vol 12 Issue 1 [Year 2021] ISSN 2277 – 9809 (0nline) 2348–9359 (Print)   DOI : https://doi.org/10.32804/IRJMSH
A correlation study on selected macroeconomic indicators of selected Asian Countries. Gitam Journal of Management, Volume 19, issue 4 (Year 2021). 1.    ISSN 0972-740X
Empowering Women through Gender Budgeting in India: Assessing Trends and Initiatives. Shodh Disha, UGC Approved Care Listed Journal. Shodh Ank 61/4 Jan-March 2023. ISSN 0975-735X
Performance Evaluation of Indian Exchange Traded Funds (The Management Accountant) Vol. 48, Issue 9, Published on 9 Sept. 2013. ISSN 0972-3528
Bank Exchange Traded Funds: A Relative Performance Evaluation (The Indian Journal of Commerce) Volume 66 Issue 4, Published on Oct – Dec 2013. ISSN :0019-512X  
Performance Comparison of Index Funds and ETFs in India ( The Indian Journal of Commerce )Vol. 67, Issue 3, Page No.21-34 July –September 2014 ISSN :0019-512X
Growth of Mutual Fund Industry in India (Quest-The Journal of UGC-HRDC Nainital) Vol. 9, Issue 3, Page No. 216-217 Published on 2015. ISSN : 0974-5041
 Exploring the Potential of E-Commerce in the Digital Age: Challenges and Opportunities for Commerce Education ( The IUP Journal of Information Technology) Published on Dec 2015 ISSN: 0973-2896  
Impact of COVID-19 on Stock Market and Gold Returns in India. (Eurasian Journal of Business and Economics),14(27), 29-46, Vol.14.27(2021): May ISSN: 1694-5948
Seminars / Workshops
Presented paper on "Mergers and Acquisitions" in Indian Banking sector at Punjabi University, Patiala (10th -11th Feb 2005)
Presented paper in National Conference on Contemporary Issues in Commerce Education in India at Uttarakhand Open University, Haldwani. (20th -21st December 2014)
Participated in the UGC- Sponsored Workshop on 'Research Methodology for Ph.D / Post Doctoral Scholars/ Teaching Faculty' from 15/10/2015 to 21/10/2015 at Human Resource Development Centre, Guru Nanak Dev University, Amritsar.
Participated in 7 days National level workshop on "Research Methodology" from June 4-10, 2020 organised by Punjab Commerce and Management association in collaboration with Khalsa College for Women, Civil Lines Ludhiana.
Attended 5 days online Faculty Development Program (FDP) on "Data Analytics using Appropriate Statistical Tools and Techniques" supported by TUHH, University of Hamburg, Germany from 26th to 30th June, 2020
Delivered lectures in the three day training session ( 21st feb 2022 - 23rd feb 2022) organized for co-operatives. 

12 units are contributed in the SLM of Uttarakhand open university's  MBA program.
Certificate Course
Successfully completed Certificate course offered by IIMBx, an online learning initiative of Indian Institute of Management Bangalore on   Equity stock Market: Concepts, Instruments, Risk and Derivatives on 25 January 2019.