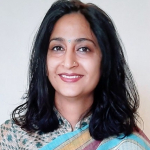 Dr. Shalini Chaudhary is working as an Assistant Professor of Economics Department at Uttarakhand Open University, Haldwani. She is working as programme coordinator of Bachelor of Arts (Economics) and Masters of Arts (Economics) programs in the Department of Economics and along with it she is also the programme co-coordinator of the Development Studies programme run under the School of Agriculture and Development Studies.
She earned her Master's Degree in Economics and Econometrics from the Banasthali University. She had a P.G. Diploma in Women and Human Rights and Certificate course in Statistical Techniques and Application, also from the Banasthali University. She was awarded her Ph.D research work in Economics from H.N.B. Garhwal Central University.
Research Areas : Economics of Human Development, Gender Economics, Economics of Growth and Development.
Honors/Fellowship:
"Excellence in Research Award" Global Research Initiatives for sustainable Agriculture & Allied Sciences (GRISAAS-2020) 28-30 December 2020
"Open Doctoral Fellowship" (December, 2012 – December, 2014) from Indian Council of Social Science Research (ICSSR), New Delhi
3rd place in CBSE School National Athletics Meet 2000-01
3rd place in HNB Garhwal University Athletics meet 2006-07
Participated in All India Inter university athletics Tournament 2008
Publications :
Shalini Chaudhary, Prashant Kumar and Anjali Bahuguna 2014, Human Resource Development And Higher Education in Uttarakhand, UPUEA Journal, Vol-10, ISBN: 548-554, 0975-2382.
Shalini Chaudhary, Prashant Kumar and Ashish Sharma 2013, Status of Women Human Rights, Aavishkar Publishers & Distributors, Jaipur, ISBN: 978-81-7910-438-5.
Prashant Kumar and Shalini Chaudhary 2012, Educational Attainment & SES: A Literature Review, Proceeding Book, Department of Economics, I.T. College, Lucknow.

 
PAPER PRESENTATION IN SEMINAR/CONFERENCES:-
International Seminar, February 2015, "Gender Equality: A Sensitive Issue for Human Resources Development in India", Department of Commerce and Research Studies, Swami Shukdevanand P.G. College, Shahjahanpur.
Annual Conference, October 2014, "Human Resource Development & Higher Education in Uttarakhand", Uttar Pradesh Uttarakhand Economic Association (UPUEA)
Annual Conference, December 2013, "Gender Equality through Human Resource Development for Economic Development in India", India Economic Association (IEA)

Annual Conference, October 2012, Active participation, Utter Pradesh Uttarakhand Economic Association (UPUEA)

National Seminar, February 2016, "Social responsibility and Economic Development As a two way relationship", Faculty of commerce, S.M. J. N. (P.G.) College, Hardwar
National Seminar, October 2014, "Securing Land Rights for Women and Gender Equality- Issue and Challenges",

 

 

Isabella Thoburn College, Lucknow.
National Seminar, January 2013, "Women Human Rights in Global Era", S.M.J.N. (P.G.) College, Hardwar, UK
National Seminar, December 2012, "Status of Women Human Rights", Department of Economics, Mata Guruji Mahila Mahavidhyalya, Jabalpur
National Seminar, November 2012, "Concept of HR and the role of Police officers in Protection of HR", Department of Economics, BSM PG College Roorkee
National Seminar, October 2012, "Economic Growth and MSME's in India", Department of Economics, St. Aloysius College (Autonomous), Jabalpur, MP
National Seminar, September 2012, "Educational Attainment & Socioeconomic Status (SES): A Literature Review", Department of Economics, IT College, Lucknow, UP
National Seminar, May 2012, "Globalization and Socio-cultural Changes in India", Department of Economics, Gov. Venkat Sanskrit College Rewa, MP
National Seminar, June 2011: "Women Empowerment through Women Entrepreneurship", S.M.J.N. 

 

(PG) College Hardwar, UK