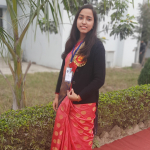 Name:
Vineeta Pant
Designation:
Assistant Professor (AC)
School :
School of Social Science
, Psychology
Qualification:
UGC NET, M.A Psychology(Gold Medalist),PGDG&C , Ph.D. (Pursuing Ph.D. from Kumaun University Nainital)
Phone :
Email :
[email protected]
Vineeta Pant is working as an Assistant Professor(AC) of Psychology Department at Uttarakhand Open University, Haldwani. Her area of interests are Guidance and Counselling, General/Cognitive Psychology & Positive psychology. She Has experience in the field of counseling as well as both online and offline teaching.
She has been awarded Vice Chancellor Gold Medal from Kumaun University. Also, she won Medals in National athletics and represented University  in north zonal hockey and kho-kho meets.
   Nayal, M., Pant, V., & Bisht, K.(2021). Varishth Naagriko ke madhya mrityu chinta ka adhyayan.       Journal of interdisciplinary cycle research.13, 290-298.
 Papers presented in Conferences/Seminars
| | | | |
| --- | --- | --- | --- |
| S. No. | Title of the paper | Title of conference/seminar | Year |
| 1. | Holistic health through Ashtanga yoga | Yoga , Naturopathy and Holistic Health | 2016 |
| 2. | "Effect of Practicing yoga asanas on stress level of sports persons" (poster) | International conference on Sports medicine in sports sciences (SAICON) | 2017 |
| 3. | Psychological Capital and Stress Management among employees- A gender perspective | 7th National conference on Implication of management theories on literature education, social science and cultural issues | 2018 |
| 4. | "Relationship between Psychological capital and stress management among employees" | Enhancing Mental Health: Exploring New Dimensions (IACP) | 2019 |
| 5. | "Virtual World and social relationship during lockdown" | Covid-19: Psychosocial Issues and opportunities |   |
| 6. |   |   |   |
 Participation in Conferences/Seminars/webinar/workshop
S. No

  National/ international

Title of conference/seminar /webinar/workshop

Year

1.

National Workshop

"Counselling and CBT"

2016

2.

National workshop

"Fundamentals of modern psychotherapeutic approaches"

2016

3.

National Seminar

Yoga , Naturopathy and Holistic Health

2017

4.

 

InterNational workshop

 

Orientation course in Sports psychology

 

5.

National online workshop

"Gratitude therapy"

2017

6.

National workshop

Training workshop on Intelligence testing

2017

7.

National conference

"Implication of management theories on literature education, social science and cultural issues"

2018

8.

National workshop

CRE Workshop on Enhancing Role of Special Educators in early childhood special education" 

2019

9.

National workshop

"Career counsellors workshop"

2020

10.

e- workshop

"Inclusive Education Mental Illness- Nature and strategies for inclusion"

2020

11.

National   online workshop

"Applying SPSS for Educational and Psychometric data analysis"

2020

12.

International e-conference

"Promotion of mental health for all: Need of the hour"

2020

13

National webinar

Mental health and virtual world

2020

14

National webinar

Rashtriya rajbhasa webinar on "simplification of Administrative Glossary"

2020

15

National webinar

"Gender Bias-Free Society"

2021

16

International e-Conference

"Recent Advances in management and technology"

2021

17

National webinar

Mental health and virtual world

 

 

National workshop

10 Days National Virtual Capacity Building Workshop in Test Construction

June22-July 1(2021)

 

International webinar

Role of Yoga in Holistic Health during COVID-19 world pandemic

26-27 June, 2021

18

International webinar

Social Determinants of health and health seeking behavior towards health equity:with special reference to the mountains regions of the World

2021

19

 

 

 
10. Workshop/Seminar organized:
Sl. No.

Status as organizer

Title of the workshop

Year and dates

1

Registration Committee

 

10 Days workshop on Research Methodology for PhD students in social science

12/03/2021-21/03/2021

2

Co-Convener

8 Days workshop on Psychological Skills for daily life

08/06/2021-16/06/2021
12. Membership to professional Organization/Associations:
| | | |
| --- | --- | --- |
| Sl. No. | Name of the Association/Organizations | Status of the membership |
| 1. | Counsellor's council of India | Lifetime member |